STEP 01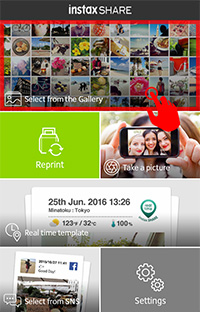 Tap "Choose from Photos." (To take a picture and print it, tap "Take a Picture.")
STEP 02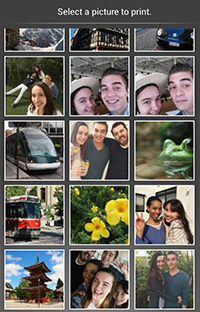 Select a picture you wish to print.
STEP 03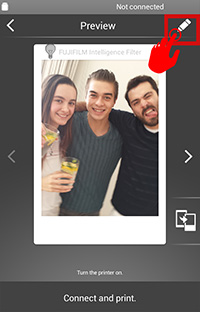 The Preview screen appears. If you want to print in Standard Template, skip to Step 09. To print in Square, Special Seasonal or Limited Edition Template, tap "Edit" at the top right.
STEP 04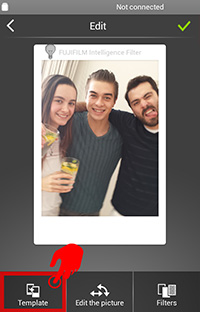 Tap "Template" at the bottom left of the Edit screen.
STEP 05Edit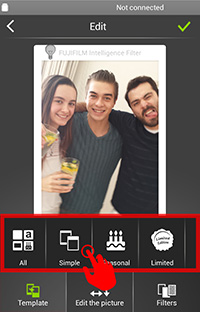 Tap a category to select a template type.
STEP 06Edit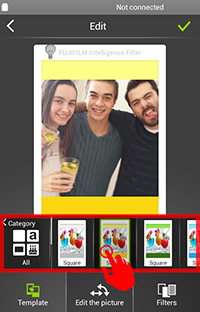 Select a design template from the category chosen.
All templates displayed
Square Template
Seasonal Template
Limited Edition Template
Collage Template
Split Template
STEP 07Edit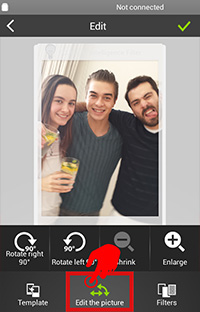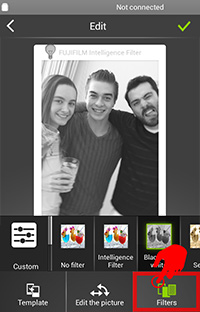 To rotate/resize the picture, tap "Edit the Picture." To add a filter, tap "Filters."
Custom Filter
Intelligence Filter
Black & White
Sepia
STEP 08Edit
Tap "Done" to complete editing.
STEP 09
If the printer is not connected, tap "Connect and print." *
When the printer is connected, printing starts automatically.
STEP 10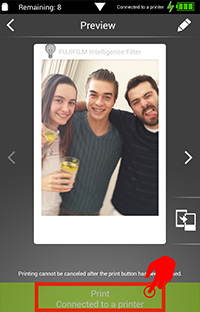 If the printer is already connected, tap "Print."
STEP 11
Keep the smartphone turned on during printing.
STEP 12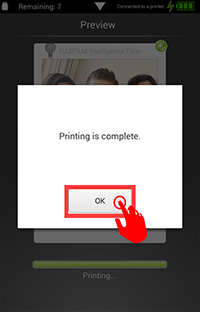 When the printing completion message appears, tap "OK." This completes printing.
* With iOS, select "Settings" > "Wi-Fi" to enable Wi-Fi connection, and under "CHOOSE A NETWORK...," tap the SSID of the printer (INSTAX-xxxxxxxx), which is shown at the bottom of the printer. (This step is only required for the first time connection to the printer. Connection will be automatically established on and after the next time.)