The instax mini 90 can capture beautiful images in the normal mode, but by changing the shooting mode, you can add more attractive effects to your photos.

Captures beautiful close-up images
This is a commonly-used mode you should remember for taking an attractive photo of a subject from a short distance away. It brings a subject 30 to 60 cm away from the lens into focus, yielding a beautiful close-up photo. If the subject is at a distance shorter than the minimum focusing distance from the lens, it may be out of focus.
The closest focusing distance is 60 cm. You cannot take a close-up photo.
You can take a close-up photo of the chosen subject.

The minimum focusing distance in the macro mode is 30 cm, but the sharpest images are produced at a distance of 40 to 60 cm from the subject.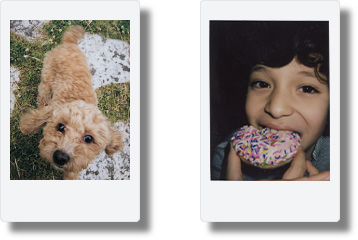 The macro mode does not require any complicated procedure, but when your photo is likely to be dark, use the L mode. In this mode, the colors in macro photos will be more vivid, making food look tastier, for example.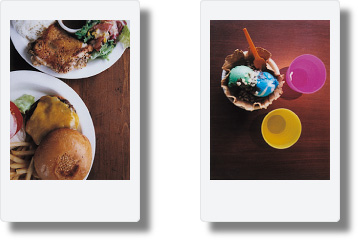 Produces high-key/low-key photos as you like
The L, L+ and D modes allow you to adjust the brightness of your photo. It is possible to add a soft touch to the photo by making the color tone brighter. In the L mode, you can make the skin look more beautiful in a portrait photo.

Captures fast movements
This mode is suitable for taking a photo of a child or animal quickly moving around in a room or under cloudy skies. The shutter speed is increased, reducing blurring of images.
The shutter speed is not fast enough to prevent blurring of the child on a swing.
The shutter speed is faster, making the blurring less than that in the normal mode.

Makes the background brighter
When using the flash in a darkened room, the background in a photo may look completely black. In the party mode, the light amount of the flash is adjusted according to the brightness in the room, making the background in the photo brighter.
The light of the flash does not reach the background, resulting in a dark-looking photo.
The background can be seen more clearly, enabling you to recall locations vividly.

Creates more impressive scenic photos
To make a scenic photo more impressive, the landscape mode is recommended. It shows a subject 3 meters or more away from the camera sharply.
The outline of the windmill is unclear.
The outline of windmill blades is sharply seen.